April 30, 2007
Come on, George: all the voices in your head are telling you to do it!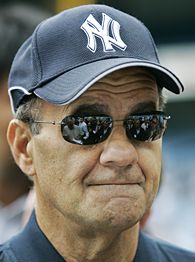 I can almost imagine the scene last night at Yankees Stadium, George Steinbrenner walking alone atop the ramparts, being visited by the ghost of Billy Martin.
Come on, George, you know you want to fire Joe Torre.....
Here's my poem in honor the situation:
Fire Joe Torre
Fire Joe Torre
Perchance to dream that Buck Showalter is available?
Fire Joe Torre.
April 29, 2007
April 28, 2007
April 27, 2007
April 26, 2007
April 25, 2007
April 24, 2007
April 23, 2007
April 22, 2007
April 20, 2007
April 19, 2007
April 18, 2007
April 17, 2007
April 16, 2007
April 15, 2007
April 14, 2007
April 13, 2007
April 12, 2007
April 11, 2007
April 10, 2007
April 09, 2007
April 07, 2007
April 06, 2007
April 05, 2007
April 04, 2007
April 03, 2007
April 02, 2007
April 01, 2007