August 31, 2006
More 'Fins Blogging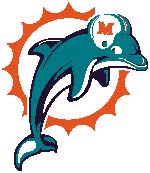 The Miami Herald notes that even Sports Illustrated is starting to call the Dolphins "Super Bowl material" now.
Message to SI: Shut the hell up.
We'll play our games and we'll see what happens. The last thing we need right now is a pack of Johnny-come-latelies fadging up an erzatz "Aqua Nation".
Here are a couple of stats from the Herald article that I thought must have been typos at first until I did the math:
You remember Super Bowls, or perhaps could remind yourself by reviewing yellowed news clippings or mining the faint recollections of elders. History books tell us Miami last played in a Super Bowl 22 seasons ago. For perspective, Ronnie Brown was then toddling around Rome, Ga., at age 3.

Miami last won a Super Bowl 33 seasons years ago. For perspective, Don Shula and the boys flew to road games on giant pterodactyls.
Dayum, do I feel old.
I've been a Dolphins fan since the early 70's.
I remember the last Super Bowl loss to the 49-ers and those infuriating Pepsi commercials afterwards featuring Dan Marino and a smirking Joe Montana. Never dreamed, at the time, that Marino would never see another one. (Super Bowl, that is, not smirk.)
I remember the glory days of the 70's under Shula, when it took at least six guys to tackle Larry Csonka and Bob Griese was a solid, reliable quarterback so long as his glasses didn't fog up.
And I remember the most embarassing moment of kicker Garo Yepremian's entire life. (If the 'Skins had actually come back and won, I seriously believe Yepremian would have been lynched.)
I've patiently weathered the drought since those days. Am I excited? Sure. But I don't much like this kind of hype. Mile wide and an inch deep is about how I see it.

And before somebody else puts it in the comments: LACES OUT!

August 30, 2006
August 29, 2006
August 28, 2006
August 27, 2006
August 26, 2006
August 25, 2006
August 24, 2006
August 23, 2006
August 22, 2006
August 21, 2006
August 20, 2006
August 19, 2006
August 18, 2006
August 17, 2006
August 16, 2006
August 15, 2006
August 14, 2006
August 13, 2006
August 12, 2006
August 11, 2006
August 10, 2006
August 09, 2006
August 08, 2006
August 07, 2006
August 06, 2006
August 05, 2006
August 04, 2006
August 03, 2006
August 02, 2006
August 01, 2006