August 31, 2006
The Continuing Voyages Of The Starship Lucas Enterprise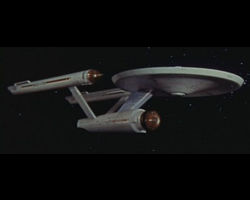 Cranky brings word that the original Star Trek television series is going to be re-released into syndication for the first time since 1990. There's an ugly catch, tho:
All 79 episodes are being digitally remastered with computer-generated effects not possible when Gene Roddenberry created the show 40 years ago.
The upgraded episodes — to be shown out of order and one per week — will kick off with "Balance of Terror," a big fan favorite "that gives us a chance to really show off the 'new' Enterprise," says Okuda. "The exterior of the ship now has depth and detail, and it will fly more dynamically." Painted backdrops will also be brought to life: Once-empty star bases will have CGI people milling about, while static alien landscapes have been given slow-moving clouds and shimmering water. Okuda notes that a view of Earth in the 1966 episode "Miri" has been "replaced with a more accurate image, now that we've gone into deep space and looked back at ourselves."
Cranky is pleased with the idea of the new look. Not me. My friends, I tell you truly that CGI wizardry is capable of producing some wonderful things. But this temptation to use it in order to go back and muck about like this is pure evil.
Don't believe me? Just ask Han.
Posted by Robert at August 31, 2006 11:58 AM | TrackBack