August 26, 2006
JOE TO CT HOUSE DEMS: DROP DEAD
The Big Kahuna links to this story from the New Haven Independent on Lieberman giving the cold shoulder to Democrat challengers to Chris Shays, Nancy Johnson and Rob Simmons. Any plan the Donks have of getting Speaker Pelosi depend on picking up at least two of those three CT seats.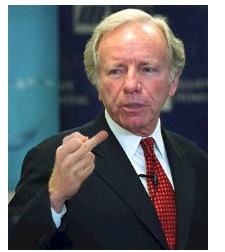 Right here, Hamsher, you obdurate wench. Who's on the gurney now?
So let me get this straight: put all the money and venom on unseating a centrist Democrat for not being pure enough (who, if you defeat, gets you no closer to gaining control of the Senate) and in doing so seriously jeapordize your chances of winning the House? Riiiiiiiiiiight. Damn that Karl Rove for dipping Ned Lamont in a Krispy Kreme glaze with a sprinkling of Baco-Bits to make him irresistable to the nutroots starved for victory. Meanwhile, the punters are putting their money on Lieberman winning the whole thing:



SENATE 2006 ROUNDUP:
Here are the seats it's looking likely the Democrats are going to pick up in the fall:
Rhode Island


Pennyslvania
They need Missouri, but that's starting to look not likely:



By unlikely in that the other races are really pulling away, meaning that the Republicans will concentrate their resources on the ones they can really hold. Santorum, Chafee (assuming he wins the primary), Burns, and Dewine are all in trouble for one reason or another of their own doing.
But say they get Missouri, where do they get the one they need to hold the Senate (assuming Joe even caucuses with them if he does in fact win)? The only one that is close is Tennessee, and that contract is trading at $70 for a Republican victory (and Virginia, even after Macaca-gate, is still trading at $80 for a George Allen victory).
But that assumes the Democrats hold all their seats (setting Joe aside for a moment):
New Jersey:
$60 is the very soft bottom of the comfort zone---if anything, it might be a good opportunity for Republicans to pour a lot of resources into a state that the Donks can't afford to lose but the Republicans don't need to win. Since they are going into this with a $100 million advantage over the Donks (way to go Howard Dean!) such strategic options are available.
That's it, everything else is trading above $80, although we'll keep our eye on both Virginia as well as Maria Cantwell's race in Washington state as both are on the $80 line. My hunch is that everything above $80 on Labor Day will be essentially over, leaving these few races as the core.
But it will certainly be rich indeed if it turns out that August 8th was the Donk high water mark, and what ultimately costs them the House and the Senate.
Posted by Steve-O at August 26, 2006 10:24 AM | TrackBack