March 31, 2010
March 28, 2010
March 27, 2010
March 26, 2010
March 25, 2010
March 24, 2010
Gratuitous Nats Posting (TM) - Rounding Into the Pre-Season Straight Division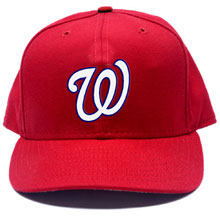 May I just point out to all of you who jumped up and down on me early last week about the Nats 0-11 spring training start that they're 5-3 since then?
So thhhhhpppttt!!!!
Some totally random team notes which may be of interest to more local readers:
- I was quite surprised when I first read the team got rid of Elijiah Dukes, as was most of the press. But the almost complete lack of follow-up questioning or criticism suggests to me that there must, in fact, have been a pretty durn good reason for it.
- Pace a friend of mine who has entered the WaPo's annual PEEPS Diorama Contest with a dramatization of Stephen Strasburg's First Pitch, I'm glad that he's being sent to the minors for a while. No point in rushing things, especially as we're not likely to contend this year.
- So catcher Jesus Flores is to start the year on the disabled list. This is news? In a way, I'm kind of glad only because it gives Wil Nieves more playing time. Nieves is known at Orgle Manor as "Pie Man" because of an incident two years ago in which he, having never hit a home run in 13 years in the League, won a game against the Cubs with a Bottom 9th, 2 strike walk-off to right. As he was being interviewed after the game by (I think) the lovely and talented Debbi Taylor, he got a shaving-cream pie right in the face from his teammates. Hy-larity ensued among the Llama-ettes.
- Start Ian Desmond at short. Why not? He's young and exciting. Give him a chance! And if Guzman sulks, chop him.
- Mrs. Robbo surprised me with the presentation of an Adam Dunn tee-shirt the other day. Dunn's signed on for this year and is in negotiations to extend his contract another couple, so I hope that goes through. He's going to end his career as a DH somewhere, but for now he's at least adequate at 1st. I do wish he'd stop hanging his wad of gum out the corner of his mouth, though.
- Somewhat off topic, but the last team jerseys of any sort I owned were the 'Fins Bob Griese #12 and Larry Csonka #39, so that puts it back a bit.
- I'm looking forward to seeing Nyger Morgan back in center. He reminds me of Deon Sanders a little too much in his showmanship shtick, but he's mighty entertaining to watch play.
March 23, 2010
March 22, 2010
March 20, 2010
March 19, 2010
March 17, 2010
March 16, 2010
March 15, 2010
March 11, 2010
March 10, 2010
March 09, 2010
March 08, 2010
March 06, 2010
March 04, 2010
March 01, 2010