March 31, 2009
Gratuitous Nats Posting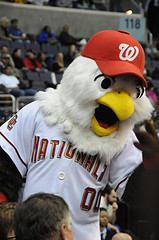 For those of you who don't keep up with off-season Nationals arcana, the above is a photo of the new, slimmed down version of Screech the Mascot. What we might call Screech v.01 was shorter and squatter.
I never much liked Screech v.01. I don't think I like Screech v.02 very much either. Give me razor-sharp talons and blood on the beak, and then maybe we can talk.
According to the most excellent blog Let Teddy Win, Screech v. 02 has been on a promotional roll-out:
The Nationals announced that Screech will make 31 appearances in 31 days to "show off his fresh-feathered look." Tomorrow, March 3 along with members of the Nat Pack, "Screech" will distribute pocket schedules to fans at the Metro Center Metrorail Station from 9:00am to 11:00am, and at Farragut North Metrorail Station from noon to 2:00pm. Screech will also make stops at the March Mania basketball tournament in Arlington, on Saturday March 7, the University of Virginia baseball game on Saturday, March 14, and the Harris Teeter in Reston on Monday, March 16. More scheduled appearances will be announced weekly throughout the month of March.
That post was from March 2. Ol' Screech must have found the venues getting rayther thin as the month wore on, because yesterday afternoon he was out doing his thing on the sidewalk at the corner of 10th and E. FBI HQ is across the street and Ford's Theatre is around the corner, but there's not much on the actual spot where Screech was operating other than a touron center and an ice-cream shop.
Perhaps I passed him at the wrong time, but he was working mighty hard to find somebody to get jiggy with aside from a few bums and the odd courier.
Well, never mind all that. The important thing? The season starts in six days!
PHILADELPHIA DELENDA EST!
March 30, 2009
March 29, 2009
March 28, 2009
March 26, 2009
March 25, 2009
March 24, 2009
March 23, 2009
March 20, 2009
March 19, 2009
March 18, 2009
March 17, 2009
March 16, 2009
March 15, 2009
March 14, 2009
March 13, 2009
Today is her day.
Birthday Yips! from Gary:
Ah, yes. Thanks for the reminder, LMC.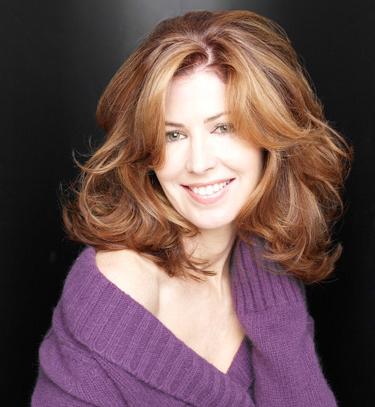 Fifty Three years HOT, today.
March 12, 2009
March 11, 2009
March 09, 2009
March 06, 2009
March 04, 2009
March 03, 2009
March 02, 2009
March 01, 2009