October 22, 2009
I Feel The Need For Speed! Littorally!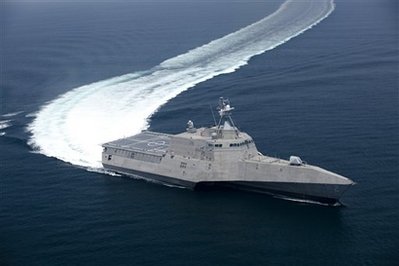 How coo-el is this?
BATH, Maine – The Navy's need for speed is being answered by a pair of warships that have reached freeway speeds during testing at sea.

Independence, a 418-foot warship built in Alabama, boasts a top speed in excess of 45 knots, or about 52 mph, and sustained 44 knots for four hours during builder trials that wrapped up this month off the Gulf Coast. The 378-foot Freedom, a ship built in Wisconsin by a competing defense contractor, has put up similar numbers.

Both versions of the Littoral Combat Ship use powerful diesel engines, as well as gas turbines for extra speed. They use steerable waterjets instead of propellers and rudders and have shallower drafts than conventional warships, letting them zoom close to shore.

The ships, better able to chase down pirates, have been fast-tracked because the Navy wants vessels that can operate in coastal, or littoral, waters. Freedom is due to be deployed next year, two years ahead of schedule.

Independence is an aluminum, tri-hulled warship built by Austal USA in Mobile, Ala. The lead contractor is Maine's Bath Iron Works, a subsidiary of General Dynamics.
Go BIW!
By the way, I love the word "littoral" and have long felt it isn't used enough in ordinary conversation. As a noun, it's essentially the beach or rocks up to the high water mark: the one-foot-on-shore-one-foot-in-sea nebulousness of it has always appealed to me. (I'm not quite sure that one can speak of "littoral waters" but I recognize that the definition is as fuzzy as everything else about the word and am willing to let it go. Ain't I a reasonable guy?)
October 21, 2009
October 20, 2009
October 19, 2009
October 18, 2009
October 17, 2009
October 14, 2009
October 12, 2009
October 11, 2009
October 10, 2009
October 08, 2009
October 07, 2009
October 06, 2009
October 05, 2009
October 03, 2009
October 02, 2009
October 01, 2009