July 31, 2010
July 30, 2010
July 29, 2010
Gratuitous Nats Posting (TM) - Batista-Gate! Edition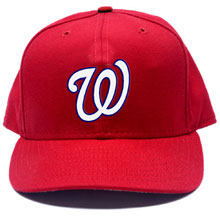 Uh, oh! Miguel Batista is in some serious hot water with the good folks of Iowa for his remark about beauty queens I mentioned yesterday:
To recap:
Washington Nationals starter Miguel Batista, the replacement starter for injured Stephen Strasburg on Tuesday night, made fun of himself after hearing the home crowd boo. They paid money to watch Strasburg, not him, which invoked this beauty of a quote:

"Imagine if you go to see Miss Universe, then you end up having Miss Iowa,'' Batista said, "you might get those kind of boos.''
Aaaaaand....cue the outrage!
Batista, who pitched five shutout innings and got the victory in the Nationals' 3-0 victory, never realized that his quote could cause problems. Well, at least in Iowa.

[Snip]

Batista discovered the outrage his comment drew in Iowa, with Connors issuing a statement: "I know I can throw a pitch or two! The question is, can Miguel Batista walk the runway in a swimsuit?"
That happens to be a pretty good comeback. Unfortunately, rather than smiling and saying "Touche," Miguel made the mistake of trying to talk his way out:
Batista apologized and sent flowers to Miss Iowa, Katherine Connors, calling her gorgeous when he saw her picture.

"People started booing me, and they hadn't seen me throw a pitch yet," Batista told the Washington Post, explaining his quote. "It's like you hear Miss Iowa, and you say, 'Iowa?' And then you see her up close and you say, 'Wow, she's gorgeous.' "
Flowers? Nice idea. Explanation? Lame. Lame. Lame.
So how will the parties turn this regrettable incident into a teachable moment?
The folks at the Miss Iowa Pageant even made Batista an offer he might not be able to refuse.

"Congratulations to Mr. Batista for an outstanding pitching performance last night,'' said Craig Heitkamp, executive co-director of the Miss Iowa Pageant. "Sometimes it's great to see the underdog win. We would like to formally invite Mr. Batista to serve on the judging panel at the Miss Iowa USA Pageant October 23 & 24 in Ames, Iowa."
That's right, a Bimbo Summit! No word on whether Joe Biden will show up.
By the way, you can see a pic of Miss Iowa if you click over to the article. Meh, I think Miguel got it right the first time. UPDATE: I think the article originally ran with the wrong pic! It's since been changed and I humbly withdraw the snark and grant Miss Iowa full Llama approval!
UPDATE: Uh, oh - Looks like this thing has the potential to go class action!
UPDATE DEUX: Here she comes, Miss Iiiiiowaaaaa.......
Of course, as a commenter pointed out, the Phils will be in town Friday when she's set to throw out the first pitch, so the stands will be full of drunken, ill-bred louts from up I-95 aways and she shouldn't be surprised to get showered with boos and beer bottles.
July 28, 2010
July 27, 2010
July 26, 2010
July 25, 2010
July 22, 2010
July 18, 2010
July 14, 2010
July 13, 2010
July 10, 2010
July 09, 2010
July 08, 2010
July 07, 2010
July 06, 2010
July 05, 2010
July 04, 2010
July 01, 2010