March 19, 2009
Gratuitous Nats Posting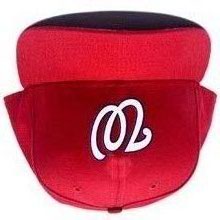 Oh, good God, here we go again!
VIERA, Fla. -- Nationals second baseman Ronnie Belliard left Wednesday's game against the Marlins in the top of the fourth inning because of a left ankle sprain. Belliard is expected to miss two to three days of action.

With Josh Willingham on first base, Belliard hit a ground ball to Marlins first baseman Gaby Sanchez, who threw to shortstop Robert Andino for the forceout. Belliard was safe at first, but a few steps after toughing first, Belliard turned his ankle and fell to the ground. Belliard had to be helped off the field.

Jose Castillo pinch-ran for Belliard in the same inning.

"Belliard walked out of [the stadium], so that is a good sign," manager Manny Acta said.

Center fielder Lastings Milledge suffered a left knee contusion in the ninth inning after colliding with Sanchez. Milledge is listed as day-to-day.
Injuries killed us last year. Injuries seem to kill us every year. What gives?
(The good news here is that both Belliard and Milledge are reported to have only minor injuries, but I tell you truly that stories like this make my blood run cold.)
Posted by Robert at March 19, 2009 12:52 PM | TrackBack