March 19, 2009
Rock Rolled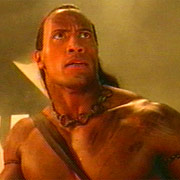 You know, I used to have great hopes that Dwayne "The Rock" Johnson was going to be the next Conan and reignite the whole silly, entertaining, swords and barbarians fantasy epic genre.
I got mulling on this again because of the impending release of the remake of Escape to Witch Mountain, in which he stars. It also brought back memories of The Game Plan, an awful kid-centric comedy of his. I am further informed by the Llama-ettes that he either is soon to host or has already hosted some kind of "Kids' Choice" awards on one of the cable channels. Heck, before he knows it, he's gonna go the route of Ric Ocasek, who after years of coo-el found himself singing "Zip-A-Dee-Doo-Dah" in duet with a Disney cartoon character.
My question is: What the hell happened?
Part of it may just be The Rock himself, although I've always found him to be charismatic and entertaining. Part of it also may be that with the fad in sooper-hero movies of late, the old-fashioned sword-wielding Cimmerian just doesn't stand a chance in Hollywood at the moment.
Posted by Robert at March 19, 2009 10:41 AM | TrackBack