March 25, 2009
The New Face Of She Who Must Not Be Named?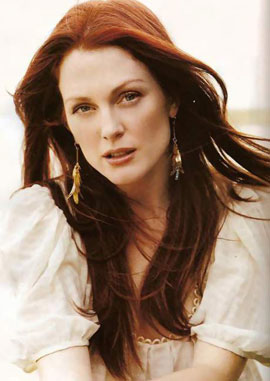 Julianne Moore, who Mom has suggested more than once should be included in our collection of hawt over-40 Llama babes, has been cast in the role of SWMNBN in a new movie about Bubba and the Bimbo.
According to the article, in a comment I'm sure is funnier than was originally intended, a source said, "This is a big role for both of them. Playing Hillary, a wife who stands by her unfaithful husband, will be something she can get her teeth stuck into."
I don't doubt it. Heh, indeed.
Dennis Quaid reportedly landed the role of the Big He, beating out Russell Crowe (you've got to be kidding me!), Philip Seymour Hoffman (I was a fan of PSH before it was cool. It's the extreme, baby!), Alec Baldwin (Now that I could see) and Tim Robbins (they could call him "Meat" again. Heh. Heh.)
No word in the article on who will play Little Miss Knee-pads.
Posted by Robert at March 25, 2009 08:07 AM | TrackBack