June 08, 2011
Gratuitous Nats Posting (TM) - Meat Division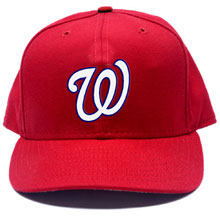 I see where Bryce Harper, the 18 y.o. phenom playing his first year with the Nats' Class A team over in Hagerstown, has got himself in a bit of trouble for blowing a kiss at an opposing pitcher after hitting a tater off him the other day.
Dumb kid. As eager as I am to see him in the Bigs, I concur with those who counsel patience. Stunts like this prove the boy needs some maturing. (According to the article, he got brushed back the next time he was up to bat. Deserved it, too, IMHO.)
Reading the article, I was suddenly hit by the realization that Harper is only five years older than the eldest Llama-ette. I'm not sure if that makes her seem older, him younger, or both.
Whippersnappers, the lot of 'em, in any event. Sheesh!
Posted by Robert at June 8, 2011 11:23 AM | TrackBack