April 30, 2011
April 29, 2011
Gratuitous Nats Posting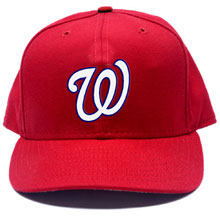 Needless to say, I was delighted to watch the Nats hang on last evening, thereby slapping the broom out of the hands of Gary's white-hot Mets. (Actually, the Nats would have won the night before, too, had not Sean Burnett uncharacteristically come unglued in the 9th.)
For those of you who don't follow the Nats, I tell you truly that I am really beginning to feel that it's a different team this year - more aggressive, more together, more stylish and, frankly, just a whole lot more competent. Once Zimm comes back, once our Big Bats heat up just a bit more and once Ian Desmond gets over his bout of erroritis, then stand back: I think we're going to surprise an awful lot of people.
By the way, as long as I'm on the Nats, I might mention that I am really beginning to enjoy the commentary by MASN's new color man, F.P. Santangelo. He clearly knows what he's talking about, and I notice with extreme amusement that he is becoming progressively more comfortable with correcting analysis offered by play-by-play guy Bob Carpenter. He also seems much more capable of expressing opinions on the various ups and downs of the team without going off the deep end like Angry Rob Dibble used to do.
Tonight begins a four game home stand against the Giants, followed by a brutal road trip next week. It's gut check time, gentlemen.
GO, NATS!!
April 28, 2011
April 27, 2011
April 26, 2011
April 23, 2011
April 22, 2011
April 20, 2011
April 19, 2011
April 18, 2011
April 13, 2011
April 11, 2011
April 10, 2011
April 08, 2011
April 07, 2011
April 06, 2011
April 02, 2011
April 01, 2011