May 18, 2011
Gratuitous Nats Posting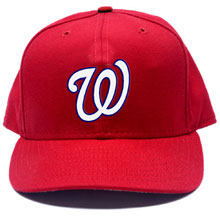 I'm guessing that tonight's game up at Noo Yawk is going to get rained out, which is a shame because I was looking forward to watching the Nats kybosh the Mets.
GO, NATS!!
ME AND MY BIG MOUTH UPDATE: I was surprised that the game was played at all and even more surprised that it wasn't called in the 6th when the monsoon started.
Well, there's an "O" in "D'oh!" but none in the Nats. Good pitching, good defense, but crickets at the plate. Story of the season so far.
Posted by Robert at May 18, 2011 04:23 PM | TrackBack