January 17, 2011
Does My Heart Good
Watching the Jets (who NOBODY expected to even compete) upset the Patsies yesterday made my weekend.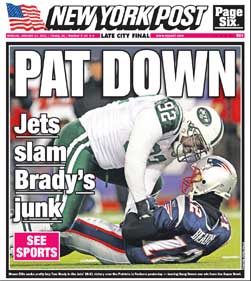 It was like watching the scrawny bespectacled kid with the asthma puffer take down the schoolyard bully.
As a Giants fan, I've got no one to really root for this post-season but the elimination of New England at least opens it up to all the remaining teams. I may actually enjoy this Superbowl.
AFC East Feud-Based Yips! from Robbo: Let's go to the videotape!:
HA! Ha!
Posted by Gary at January 17, 2011 12:48 PM | TrackBack