October 13, 2010
Happy Birthday, Baroness Thatcher!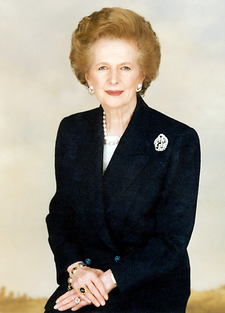 The Iron Lady was born this day in 1925.
It's been long enough around here that I can tell the story again: Back in the late 80's, I spent the year prior to law school working as a research assistant in Parliament. There I was fortunate enough to snag gallery seats for a couple of Thatcher's Prime Minister Question Time sessions. The strength she projected was amazing and her combination of wit and wisdom left more than one member of the loyal opposition who tried to spike her as nothing more than a small puddle of grease on the bench.
On the other hand, I passed her in the corridor one day and she gave me a very warm smile. For all her power, she also had the personal touch and never, ever gave the impression of looking down her nose at anybody.
Posted by Robert at October 13, 2010 08:52 AM | TrackBack