June 03, 2010
Gratuitous Nats Posting (TM) - Strassed Out Division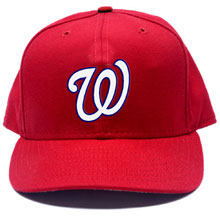 As all the baseball world probably knows by now, rookie pitching phenom Stephen Strasburg is scheduled to make his major league debut this coming Tuesday evening against the Bucs.
So far as I know, nobody has actually come out and called Strasburg the Messiah yet, but I have noticed that the Nats are stockpiling palm fronds along Half Street.
All the hype is starting to give ol' Robbo some pause for at least three reasons.
First, Strasburg's still only a kid. And although he's been blowing people away in the minors, God only knows how he'll react to the pressures of the Show.
Second, he's still only one guy, and can't pitch the entire rotation by himself.
Third, if the rest of the team doesn't stop stranding guys all over the bags and making ridiculous fielding errors (as they have during the last couple of infuriatingly frustrating games against the Astros), it isn't going to make much odds how good Strasburg is.
Just saying.
Nonetheless, GO NATS!!
Posted by Robert at June 3, 2010 07:59 AM | TrackBack