April 17, 2010
Gratuitous Nats Posting (TM) - Inside Slider Division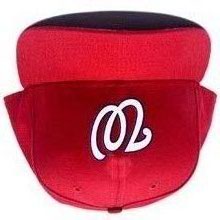 Well, perhaps my watching the Nats play is not such a curse after all, because I sat all through last night's very exciting 5-3 win over the Brewers. UPDATE: Actually, I missed both Dunn's ejection and Willy Harris getting caught in a run-down. How odd and refreshing that the bad things happen when I'm not watching.
This time last year, I'm not sure if we'd won more than a single game yet. This year? We're playing .500 ball. How about that? If we finished up with an 81-81 record, I think I'd be perfectly satisfied. UPDATE: Make that better than .500, as we took another one off the Brewers this afternoon, 8-0. No, I wasn't watching that one, instead assisting the eldest Llama-ette's softball team's cruise to another victory.
One thing about last night's MASN broadcast that made me chuckle: Some time in the later innings when Bob Carpenter and "Angry" Rob Dibble were bantering about something or other, Dibble made a passing reference to having "stuffed" the President.
Don't know what I'm talking about? Let's go to the video tape:
Heh. At the time I remarked from my experience of listening to Bob and Rob that I could sense the growing disbelief between them as The One ducked and dodged. Dibble's remark last evening suggests he cherished the moment, too.
GO, NATS!!!
Posted by Robert at April 17, 2010 09:49 AM | TrackBack