April 16, 2010
Keepin' It Classy
In the City of Brotherly Chunder
PHILADELPHIA — A New Jersey man is facing charges after police say he intentionally vomited on an 11-year-old girl in the stands during a Phillies game.

Twenty-one-year-old Matthew Clemmens of Cherry Hill, N.J., was arraigned early Friday morning on charges stemming from an incident during Wednesday night's Phillies-Nationals game.

Police say Clemmens began trying to make himself vomit on an off-duty police captain and his family after a companion was removed from the stadium for unruly behavior.

Easton police Capt. Michael Vangelo says he saw Clemmens put his fingers down his throat and throw up, hitting Vangelo and his 11-year-old daughter. Philadelphia police say Clemmens also punched Vangelo and vomited on an arresting officer.

Clemmens was in custody Friday morning on charges including assault and harassment. Bail was set at $12,000.
Niiiiiice. I was chatting with somebody last weekend who reported similar obnoxious Philly Phan behavior at the Nats' home opener. And isn't it always Iggles fans who get in trouble for throwing ice balls?
What is it with these people?
Yips! from Gary:
I think it gets worse when the teams are more successful.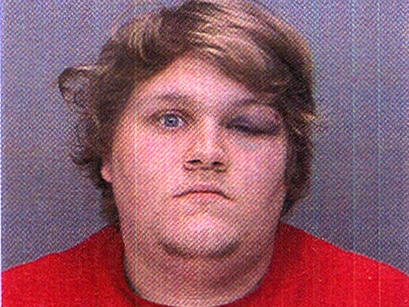 Matthew Clemmons - Loser
"Fat, drunk and stupid is no way to go through life, son."
- Dean Vernon Wormer
They don't know how to handle actually winning.
Posted by Robert at April 16, 2010 09:07 AM | TrackBack