June 09, 2010
Gratuitous Nats Posting (TM) - Elvis Is IN The Building! Dept.**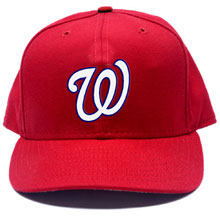 What can one say to a 14K, no walk debut except "Thangkyuh verrah much!"
I happened to be talking to our Maximum Leader yesterday, and he cautiously predicted that Strasburg would finish up with a 3.7 ERA. The actual result? 2.57. I give Maxy full credit for caution because what with all the hype and ballyhoo and pressure, I went into this thing with one eye closed in apprehension, too.
But once the kid started throwing? Dayum!
GO, NATS!!!
**For those of you who are not Nats regulars, I should explain this post title: Center fielder Nyger Morgan started a tradition this year of designating a player of the game after each win and making him wear a silver Elvis wig while talking to the press. There's also a tradition of pie-facing the MVP with shaving cream while he's talking to MASN's lovely and talented Debbie Taylor. Strasburg got two of 'em last night, both while wearing the Elvis wig. Welcome to the show.
Posted by Robert at June 9, 2010 08:16 AM | TrackBack