June 08, 2010
Gratuitous Nats Posting (TM) - "Show Time" Division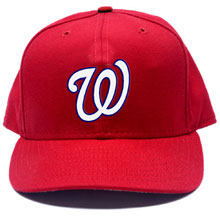 Yes, tonight is the much ballyhooed debut of wunderkind Nats pitcher Stephen Strasburg. (It will also mark the return from injury of catcher Pudge Rodriguez, but that of course will only be of interest to those who actually pay attention to the game.)
Over the weekend, the eldest Llama-ette was invited to go see the game with a friend and her family. Despite the fact that she's supposed to have her own batting practice tonight and that she'll somehow have to stagger out of bed for school tomorrow, I reckon an opportunity to see a potential bit o' history like this doesn't come up very often, so of course I said she could go.
Last evening we went to considerable effort to ensure that the gel will "get her red on" in style tonight, up to and including a truly bizarre pair of red-framed shades I've never seen before. If you happen to watch the game and if you happen to see a pair of twelve year olds, one blond the other sandy-haired, both rigged out top to bottom in Nats gear and screaming like banshees for the camera, well, that'll be the Llama-ette and her friend.
And by the way, GO NATS!!!
Posted by Robert at June 8, 2010 07:51 AM | TrackBack