April 23, 2010
Gratuitous Nats Posting (TM) - "Serenity Now!" Division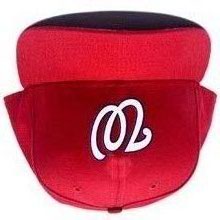 Mom's favorite columnist, Dr. Krauth, has a piece today on the joy of good-natured fandom down at Nats Town these past awful years. He ends with a warning that change may be coming:
But now I fear for my bliss. Hope, of a sort, is on the way — in the form of Stephen Strasburg, the greatest pitching prospect in living memory. His fastball clocks 103 mph and his slider, says Tom Boswell, breaks so sharply it looks like it hit a bird in midair. In spring training, center fielder Nyjer Morgan nicknamed him Jesus. Because of the kid's presence, persona, charisma? Nope. Because "that's what everybody says the first time they see Strasburg throw," explained Morgan. "Jeeee-sus."

I'm worried. Even before Strasburg has arrived from the minor leagues, the Nats are actually doing well. They're playing .500 ball for the first time in five years. They are hovering somewhere between competent mediocrity and respectability. When Jesus arrives — my guess is late May — they might actually be good.

They might soon be, gasp, a contender. In the race deep into September. Good enough to give you hope. And break your heart.

Where does one then go for respite?
Ya got me. Hopefully, success (if it comes) will not transmogrify us into knuckle-dragging barbarians like, say, the Phils crowd.
I haven't said a single thing about Strasburg, by the way. Haven't even thought about him. Not going to buy into it until he's up there on the mound fanning guys out. Where there's no hope, there's no disappointment.
GO, NATS!!!
Posted by Robert at April 23, 2010 10:56 AM | TrackBack