April 06, 2010
Gratuitous Nats Posting (TM) - Invasion Of The Phanatics Division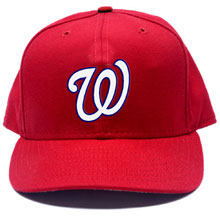 Dan Steinberg on the salt in the wound of the Nats' opening day humiliation:
Maybe having tens of thousands Philadelphia fans invade your home stadium is inevitable. Their city is nearby. Their team is successful. Their fans evidently don't have work responsibilities. That's cool. I get it.

Still, it rankles D.C. fans. It will always rankle D.C. fans., whether Redskins fans staring at Terrible Towels, Caps fans being drowned out in their own building (in the bad old days) or Nats fans surrounded on Opening Day. And there seem to remain some indications that the powers-that-be don't understand that.

Witness Mark Lerner's recent interview with Nats 320, in which he was asked about winning over more D.C.-area residents. After admitting the team needs to establish a stronger brand locally, he said this:

I also would tell you that we intend to broaden our audience beyond the 5.5 million [local residents]. There is no other sports franchise in America that can claim to represent the National Pastime in the Nation's Capital. We want everyone who visits Washington, D.C. to see the White House, the Capitol, and all the monuments, to join us when they spend their summer evenings in our city. We see the Nationals becoming America's Home Team. Our city belongs to all Americans, and we believe our team does, too. We are one Metro stop from the U.S. Capitol, and absolutely the finest sports venue to see the Capitol lights at night.

As generic boilerplate rhetoric, independent from actual events, that's fine enough. In light of the past two games at Nationals Park, though, it reads like an open invitation to the world to come rape and pillage Half Street, or at least fill D.C.'s stadium with the wrong chants. Washington sports fans don't want to root for a team that belongs to all Americans; they want to root for a team that belongs to them.
Damned right.
I found myself fuming about this as I made my way home from work yesterday afternoon, detouring around legions of smug Phanatics on the sidewalks, getting jostled and breathed on by more of them in the Metro, doing everything in my power to avoid whipping out my Nats hat (I had it in my briefcase to use at softball practice), put it on backwards and begin slitting throats.
Sooper-Sekret Message to Philly: GO HOME!!!!
Posted by Robert at April 6, 2010 12:37 PM | TrackBack