January 12, 2010
Happy Birthday To The Seventh Python!
Carol Cleveland born this day in 1942.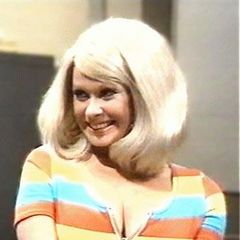 Because sometimes it got tiring watching grown British men in drag. Carol was the unsung comedic goddess of the Monty Python troupe who stirred the nascent hormones of us young lads who one day discovered that PBS had more than just muppets and Bill Moyers.
In tribute to Ms. Cleveland, I present - The "Marriage Guidance Counselor" Sketch:
And Now For Something Completely Different Yips! from Robbo: Yes, indeedy. She also gets the Good Sport Award as far as I'm concerned for dealing with that gang of lunatics.
But speaking of young lads and nascent hormones, there was always the question of Carol Cleveland vs. Connie Booth.
Posted by Gary at January 12, 2010 08:53 PM | TrackBack