December 24, 2009
A Christmas Message From the Ex-Donk
Hello faithful readers (and lurkers)! A regular contributor of this blog - me - has been laying low for some time while acclimating myself to the new job. I'm happy to report that most aspects of my life are somewhat back on a normal footing but there have been many loose ends to tie up in the interim.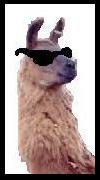 It's been a volatile year in things both political and cultural and I've been keeping an eye on both while tending to matters on the home front.
I want to wish Robert, Steve, the LMC and all the intermittent posters here at the Butcher Shop a most happy and healthy Christmas and prosperous new year.
Now that things have "settled" down for me I plan on returning to regular appearances once we've successfully crossed over into the new year.
Remember your blessings and hold on to them dearly this wonderful time of year!
All the best -
- Gary
Posted by Gary at December 24, 2009 07:08 PM | TrackBack