February 19, 2010
Gratuitous Nats Posting (TM) - Spring Fevah Edition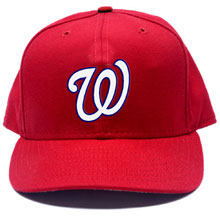 Pitchers and catchers report today. Woo-Hoo!
I've been following the off-season nooz about the Nats in a desultory way, well cognizant of the fact that I know absolutely nothing of the ins and outs of the drafts and trades. However, the general buzz in the trade press seems to be that the Nats did well and that fans should be cautiously optimistic. To wit:
Mark it down: The Nationals will not lose 100 games this year.

Here is why: The Nationals actually spent a lot of money in the offseason to improve pitching, hitting and defense. What more can you ask for? You add the new guys to a lineup of Ryan Zimmerman, Adam Dunn and Nyjer Morgan, and 70 wins this season seems probable. Dunn will hit close to 40 home runs again, Zimmerman will improve on his career numbers from a year ago and Morgan should continue the major impact he had on offense and defense before he got hurt. Morgan could lead the majors in stolen bases, and fans can expect to see lots of diving grabs in center field.

The Nats signed a veteran ace to lead the staff in Jason Marquis. The former Colorado Rockies pitcher delivered double digit wins the past six seasons. Last year he went 15-13 with a 4.04 earned run average and threw 200 plus innings. Marquis is a solid starter who can take the pressure off John Lannan.

Second baseman Adam Kennedy gives the Nats a consistent hitter down in the lineup who can play great defense. The 34-year-old lefty hit .289 with 11 home runs, 63 RBIs and 20 stolen bases last year for the Athletics. Kennedy will likely hit sixth or seventh in the lineup.

Ivan "Pudge" Rodriguez is the perfect catcher to help a young pitching staff. Pudge had a down year last season, hitting just .249, but you can't say he's done. He has a lifetime batting average of .299, one of the best ever for a catcher. Rodriguez is expected to play about 90 games Nationals GM Mike Rizzo told MASN's Ben Goessling. Rodriguez will platoon with Wil Nieves until Jesus Flores is fully healthy.

The Nats bullpen was the worst in Major League Baseball last year. This year, the team made several signings to turn things around. The team has several options for the closer role. Matt Capps is the front runner. He saved a career-high 27 games for Pittsburgh last year. If he can't do it, next in line is Brian Bruney, who came over from the Yankees. He had a combined 8-0 record and a 2.95 ERA in the last two seasons.

And don't forget Stephen Strasburg. He most likely won't start the season in the big leagues, but come June, expect to see the most talked about rookie in years. Strasburg has a 100 mph fastball. The $15 million player the Nats selected first overall in the amateur draft can hopefully live up to all the hype.
Nice summary, but still: All that to go from 59 wins last season to......70 this year? C'mon! I certainly think hope we can salvage more than 11 games with all these prospects.
We shall see. Opening day is April 5 at home against the Phils. Philadelphia Delenda Est!
GO, NATS!

Posted by Robert at February 19, 2010 02:11 PM | TrackBack