July 29, 2009
Gratuitous Nats Posting (TM) - "See! You! Later!" Division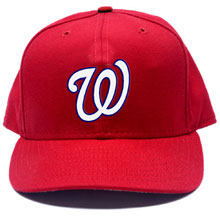 How about that? The Nats took another one off the Brewers last night by a score of 8-3, including an Adam Dunn homer that still hasn't hit the ground. (The eldest Llama-ette and I spent the evening arguing about whether the Nats should just keep playing Dunn at 1st and get rid of Nick Johnson altogether. That's the kind of argument I don't mind having with the gel.) The real star of the game, however, was our new centerfielder Nyger Morgan. Why did the Bucs let him go, I wonder?
So, as I say, how about that? That's four wins in a row and six out of the last eight games. Is it now legitimate to believe that the team finally has had the fire lit under its collective backsides and might finish out the season in some style? The gremlin bogie remains stuck at 53 and the magic number to kill it is now 9.
Yup, baseball is almost fun again.
GO NATS!!!
Posted by Robert at July 29, 2009 07:56 AM | TrackBack