July 16, 2009
Gratuitous Nats Posting, Ex Post Acta Division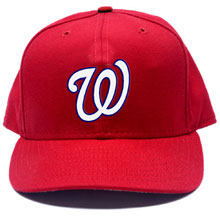 I'm glad to see that not everyone in the local press thinks Manny deserved the axe:
The Washington Nationals fired manager Manny Acta this week. It seems that Acta is taking the blame for the Nationals' terrible season.

That's too bad. It's always a shame when someone gets blamed for something that's not his fault.

I'm not saying that Acta was a great manager. During the 2 1/2 seasons that he managed the Nats, the team's record was 158 wins and 252 losses. That's pretty bad. But I doubt even a future Hall of Fame manager such as Tony La Russa of the St. Louis Cardinals or Joe Torre of the Los Angeles Dodgers could have made this Washington team into a winner.

If you don't believe me, ask yourself this simple question: What Nationals player has proven himself to be better than the average major league starter at his position?

I'd say Ryan Zimmerman, the Nationals' only all-star, is better than the average starter at third base. But who is there after that? Cristian Guzmán at shortstop or Adam Dunn in left field or Nick Johnson at first base?

Well, Guzmán almost never gets a walk (only seven bases on balls in 72 games), Dunn can't field and Johnson gets hurt nearly every season. In addition, the Nats' pitching is awful. So Acta didn't have a lot of talent on this team.

Too often in sports, whether it's the pros or kids, players and fans make excuses when things don't go well for their team. They claim that their team was unlucky or that the referee was against them. Or sometimes they say it was the coach's fault.

It's hard to stop making excuses and be honest about why the team is losing. The truth is that the Nationals are losing because they have almost no players who could start for a winning team.

The Nationals fired Acta not because he was a bad manager, but because they couldn't fire all the players.
Incidentally, the eldest Llama-ette said almost exactly the same thing.
I agree that Zim is probably the only really top-notch player on the team. As for Dunn's fielding, well, he was picked up for his bat, not his glove. In fact, if Nick Johnson could be got rid of, I believe the Nats would have no qualms about moving Dunn over to 1st. (My only request is that somebody tell him to stop letting his gum hang out of the corner of his mouth. It's starting to drive me crazy.) They'll never do anything about Guzman because the announcer at the park has too much fun with his name. ("Guuuuuuuuuuuuzzzzzz-maaaaaannnnnn".)
As for the rest of the team, well, remember that most of these guys are pretty young. And what about Josh Willingham? He seems to be shaping pretty well. And I still believe that we have some great potential in the starting rotation, particularly with guys like John Lannan (who the gels refer to as "Owl Man") and the other Zimmerman.
As for the bullpen? Drown the lot of 'em, says I.
Probably the most frustrating thing about all this is the undeniable fact that baseball really is a game of inches. We've not really been getting blown out by anybody, but are losing a lot of close battles. It's that last couple inches that we need to work on.
Will a change in managers help? I dunno. I suppose we'll find out starting tonight.
UPDATE: Nope!. Second verse? Same as the first! Cubs beat the Nats 6-2 in a classic late-innings meltdown.
Posted by Robert at July 16, 2009 10:02 AM | TrackBack