February 24, 2009
They're BAAAAaaaack!!!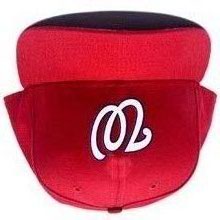 Spring training season starts tomorrow. Woo hoo!!!
VIERA, Fla. (AP) — John Lannan will start the Washington Nationals' first spring training game when the team travels to Kissimmee to play the Houston Astros on Wednesday.

Lannan, who was 9-15 with a 3.91 ERA last year in his first full season in the big leagues, is expected to go two innings.

"I'm not going to try to do too much," Lannan said Tuesday. "I'm still working on my breaking ball. I'm locating my pitches pretty well right now, which is good. I'm just trying to keep the ball down and throw as many strikes as I can."

Also slated to pitch for the Nationals are Shairon Martis, Garrett Mock, Gary Glover and Steven Shell.

The game is the first of 35 exhibitions for the Nationals. Spring training is a week longer than usual this year because of the World Baseball Classic.
And God bless Manny Acta for keeping his chin up:
Washington manager Manny Acta is optimistic about his team, mostly healthy thus far after an injury-plagued 2008 season that included 102 losses.

"This is the best team we've had in the three years I've been here," Acta said. "We have things here we didn't have before. If we don't go through mayhem like we had last year, I think these guys are going to be good. I have plenty of confidence about what we're going to do around here."
Fingers (and as many toes as possible) crossed. Injuries killed the Nats last year and were a big part of the 102-loss season. If everyone can keep healthy this year, who knows?
First regular season game is April 1. My theme for the season? Philadelphia Delenda Est!
GO NATS!!!
Posted by Robert at February 24, 2009 04:23 PM | TrackBack