January 13, 2009
Gratuitous Nats Posting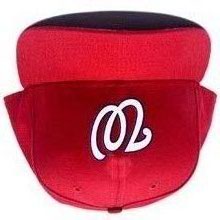 It's never too early to start thinking about the return of baseball (pitchers and catchers report in 32 days) and here's some good nooz for Nats fans:
Mid Atlantic Sports Network (MASN) and WDCW-TV, DC50, inked a multiyear deal to simulcast 20 Washington Nationals games on the over-the-air broadcast network each season.

In recent years the Washington Nationals have been known as the least-watched team in Major League Baseball. With an average of 8,000 households watching each game, the Nationals ended the latest season with the biggest year-to-year percentage slump in baseball — at 51 percent.

The new partnership will let the games be shown throughout the Washington area on broadcast and cable.

"This agreement will bring more and better distribution for Nationals games, more marketing and promotion for the team, and more direct spending on behalf of the club in the Washington region," said Todd Webster, a spokesman at MASN, which carries more than 600 live sporting events every year.

The over-the-air games will no longer be televised exclusively by MASN's broadcast partner in the local market, but will be carried on MASN or MASN2 throughout the Washington market and MASN's entire seven-state coverage area.

"Nats Xtra," MASN's pre- and post-game show, will also air on DC50 before and after each game.

"As we enter the 2009 season, the Washington Nationals will enjoy greater television exposure throughout the region because of MASN's new partnership with DC50," said Nationals President Stan Kasten, in a statement.

Through the partnership, the team will get cable and broadcast TV spots and visibility from radio, outdoor, and online advertising.
I will tell you here and now that I have never really believed that an average of only 8000 households in the Dee Cee market were watching Nats games on tee vee last season. I dunno how that figure was derived, but based just on water-cooler talk and the like, I've got to conclude that it's not accurate. In fact, even if you tell me it's right, I'm still going to insist it's wrong.
By the way, while I enjoy the game-calling by Bob Carpenter and especially the dead-pan delivery of Don Sutton from the booth, this year I think we should see more of the lovely and talented Debbi Taylor reporting from the stands and the dugout.
GO NATS!
Posted by Robert at January 13, 2009 03:28 PM | TrackBack