November 12, 2009
Gratuitous Nats Posting (TM)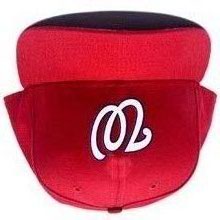 Looks like the Nats are going with Riggs:
No more interim tag for Jim Riggleman: He is going to be the Washington Nationals' full-fledged manager in 2010.

The Nationals are sticking with Riggleman after promoting him from bench coach midway through last season, two people in baseball familiar with the team's plans told The Associated Press.

Both people spoke on condition of anonymity because no announcement had been made. The team said Thursday it would hold an afternoon news conference to announce its manager.

Riggleman replaced fired manager Manny Acta in July on an interim basis. The Nationals were 26-61 (a .299 winning percentage) at the time and went 33-42 (.440) under Riggleman, finishing with a major league-worst record of 59-103.
I'm pleased with this decision. Riggs is a back-to-basics kind of guy and also much more of a disciplinarian than Acta - and it's evident from the stats that this was just what the Nats needed this year. I also think the continuity is important.
BTW, I never got the chance to mention it earlier because I was on the road when I read about it, but congrats to Manny Acta for landing the skippership of the Indians. For all the humiliation, I still really like Manny. It's beyond obvious that he and the Nats were a bad mismatch, but he's still a good guy and, in the right circumstances, I believe can do well. I certainly hope so. Best of luck!
GO NATS!!!
Posted by Robert at November 12, 2009 02:07 PM | TrackBack