August 18, 2009
Gratuitous Nats Posting (TM) - "Whoa" Division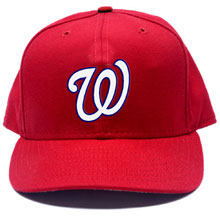 Jeez, I leave town and what happens? The Nats have won 11 out of their last 14, including a dazzling 8 game streak last week.
I'm not saying there's any connection there, necessarily.....
Anyhoo, almost needless to say, the gremlin bogie is dead and dead, the '62 Mets retaining their hold on the worst record in history. The Nats are now no longer horrible, but have moved up to just really bad.
I say that in jest, of course. The guys are playing tough and playing proud. What's not to love about that?
Since we've cleared one record-book hurdle, perhaps it's time to start thinking about another - namely the avoidance of back-to-back 100+ loss seasons. By my extremely crude arithmetic, there are 44 games left. The Nats are at 75 losses at the moment, meaning they can lose 24 more and still come in under the century. In order to do this, they'll have to play something close to .500 ball for the remainder of the season.
Think they can do it? I dunno.
Think they're gonna try? You betcha.
(Oh, and before you ask, I'll tell you that I have no opinion whatever on the signing of Stephen Strasburg, despite all the hoopla. Too many of these things have come unstuck for me to get excited yet. When he's up in the show fanning the side on a regular basis, then I'll get excited.)
GO NATS!!!
Posted by Robert at August 18, 2009 08:10 AM | TrackBack