August 04, 2009
Gratuitous Nats Posting (TM) - Dodging A Bullet Edition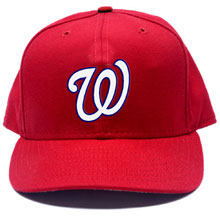 Last evening, as the Nats were down 3-0 in the bottom of the 5th, with the Bucs having loaded the bases with no outs, I said to myself, "Self, here's where we get crushed."
Oh, me of little faith!
After Clippard came on for the hapless Monk and skunked the Bucs, the Nats then proceeded to turn on the powah and win the game 8-4.
Satisfying.
Aaaand, with that win we not only split the series with the Bucs, we also split the whole road trip.
Most satisfying.
The gremlin bogie remains at 50 and the magic number to kill it is now 7.
BTW, you Pirates fans out there can stop laughing about Adam Dunn's play at 1st. Yes, I had gels on my softball team this spring who could field better than him, but the truth is that we need his bat and we really don't have anywhere else to put him. I'll bet he finishes his career as a DH in the 'Murican League somewhere.
Tonight we open a home stand against the Marlins. Who we haven't beat all farookin' season. The. Heat. Is. On.
GO NATS!!!
Posted by Robert at August 4, 2009 08:44 AM | TrackBack