August 03, 2009
Gratuitous Nats Posting (TM) - Weekend Surprise Edition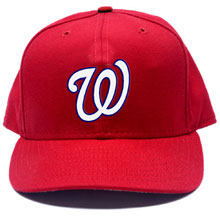 I didn't get a chance to watch much baseball over the weekend, but I see that the Nats dropped two more before taking one off the Bucs last night. Thus, the gremlin bogie stands at 50 with 8 wins needed to kill it. Considering we have to face the Marlins this week, I'm not optimistic that we're going to get that much closer any time soon.
I was also surprised to see that the Nats actually did get rid of Nick Johnson, just as I had suggested to the eldest Llama-ette the other night. Rather like leaning against an open door or expecting that last stair when it isn't there.
Mrs. Robbo and the Llama-ettes lit out for the north yesterday and I'll be following them up Thursday. I had thought that since I'm on my own this week, it might be a good time to take in a game down the park, especially (as I mentioned) since we're facing our arch-Nemeses the Marlins. But it's going to be just too damned hot n' humid this week, so I think I'll stick to the tee vee.
GO NATS!!
Posted by Robert at August 3, 2009 07:55 AM | TrackBack