July 30, 2009
Gratuitous Nats Posting (TM) - Bad Mojo Division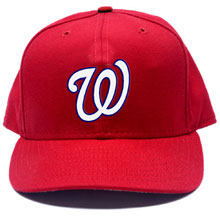 Well, the Nats' four game winning streak got snapped last night as they blew a mid-innings lead to lose to the Brewers 7-5.
Personally, I blame MASN play-by-play guy Bob Carpenter for this one.
You see, somebody sent Carpenter and "Angry Rob" Dibble an old Jose Morales baseball card at the beginning of the streak and the guys adopted it as a good luck charm. That's all well and good, but Carpenter just couldn't keep his mouth shut about it and its positive effect, and last night they even showed the damned thing taped to the broadcast desk.
Guys, you've been in the business long enough to know how fickle the Baseball Gods are. If Jose Morales is powering the team, he's powering the team...but you don't TALK about it!
Or as Crash Davis said, "Never fook with a winning streak."
So the gremlin bogie drops to 52, with 9 still the magic number to kill it. Here's hoping the Nats can get it back together this afternoon and at least take the series.
GO NATS!!

Posted by Robert at July 30, 2009 07:57 AM | TrackBack