July 25, 2009
Gratuitous Nats Posting (TM)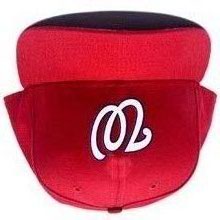 The Nats dropped the first of a series against the Padres last night by a score of 6-2. The gremlin bogie number now stands at 53.
The denizens of Orgle Manor were out at a dive team season wrap-up picnic and did not arrive home until the end of the 7th Inning. After the eleven year old indignantly reported that the Nats were already well down, there simply didn't seem to be any point in watching the rest. I forget what the team's record is when trailing after seven, but it's something pretty horrendous. Much better off reaching for a book and saving your blood-pressure.
Still, we'll try it again tonight.
GO NATS!!!
Posted by Robert at July 25, 2009 10:37 AM | TrackBack