July 18, 2009
Gratuitous Nats Posting (TM) - Countdown Division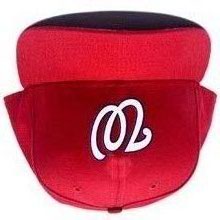 Hookay, let's go ahead and kick this thing off in earnest. As all the baseball world knows, the '62 Mets lost 120 games. Two games past the All-Star Break and the Nats have already rung up 63 dings this season.
My math isn't all that good, but I'm pretty sure that means we only need 58 more losses the rest of the year to break the record. Think we can do it?
GO, NATS!!!***
***I say this tongue-in-cheek. Of course, I'm going to stick with the team regardless of what happens. And a few years down the road when we get competitive and suddenly everyone is a Nats fan? I shall sneer in contempt at such summer soldiers and sunshine patriots.
Posted by Robert at July 18, 2009 08:52 AM | TrackBack