July 13, 2009
Acta La Vista, Baybee!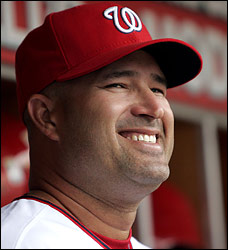 Well, I've been peeking at Google-nooz every day for about the last four weeks expecting to see that the Nats had given Manny Acta the heave-ho, and sure enough, there he goes.
It's all still sinking in, but I'm of two decidedly mixed views on this move. On the one hand, I really like Acta. He's a young, class act and it's a shame to see him get thrown under the bus for the team's collective disaster of a season.
On the other hand, if Manny has a weakness, I think that maybe he's been a bit too soft on his players. From all that I've read, he never loses his cool, never pushes, never tees off on anyone. There's just not much fire there. That managerial style might work in some situations and with some rosters, but what these guys need (and have needed for some time) is an almighty kick in the collective balls.
Anyhoo, I wish Manny all the best and hope that his future turns out brighter. Meanwhile, I certainly expect that the Nats' season will get better from here on out, simply because it could not possibly get any worse.
Oh, the bright spot in all this? I heard the nooz first from the eleven year old, who's taken a keen interest in Manny's fate herself. I must be doing something right.....
Posted by Robert at July 13, 2009 04:56 PM | TrackBack