June 25, 2009
Gratuitous Nats Posting - Early To Bed Division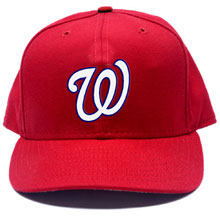 Yes, contrary to what some people think, we are a professional baseball team.
As Tom Paine said, these are the times that try Nats Fans' souls. You people from Baastahn ought to remember that it really wasn't all that many years ago that you routinely went through the same kind of thing. All I can say is that when we break out - and we will - I hope we won't become half so insufferable about it.
Having said all that, I turned off the game early last evening even though it never became an embarrassment. I don't know what the actual stats are, but my experience this season is that the Nats almost never come from behind for a win.
Oh, well. Let's see if we can avoid the sweep tonight. (How's that for a rallying cry?)
GO NATS!
Posted by Robert at June 25, 2009 08:09 AM | TrackBack