June 23, 2009
Gratuitous Nats Posting - Imminent Rueage Division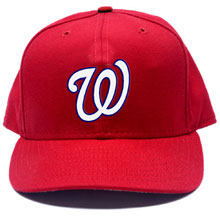 Snotty articles like this are just the sort of thing to put a hex on the BoSox as they start a three game series against the Nats tonight.
I'm not making any predictions here. I would instead simply point out that the Nats took two games each off both the Yanks and the Blue Jays this past week, so don't get cocky, kids.
I'm batching it for the next few days, as Mrs. Robbo and the Llama-ettes are dispersed at camp and relatives' houses. I'll be sure to watch the series on MASN, although I'm still kicking myself for not having thought far enough ahead to try and grab a decent seat at the park.
GO NATS!
Posted by Robert at June 23, 2009 07:47 AM | TrackBack