June 04, 2009
Gratuitous Nats Posting (TM) - Sunshine Patriots Division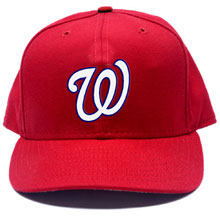 In connection with my post below, our Maximum Leader has this to say about the Nats' possible rendezvous with the Big Unit's destiny:
Greetings, loyal minions. Your Maximum Leader did a very bad thing yesterday. While talking baseball with a friend he was asked if Randy Johnson would gain his 300th win yesterday versus the Washington Nationals. Your Maximum Leader said that he felt Johnson would become a 300 game winner yesterday. The friend believed that the Nats would hold off the Giants, or at least force a no-decision for Johnson (as the Nats often play you close then lose when they go to the bullpen). We went back and forth on this for a little while.

Then it happened.

The "wanna lay a wager on that" was thrown down.

Your Maximum Leader, in a moment of pique, bet against his team. It was his standard bet, $1.

Every since your Maximum Leader has felt guilty. His guilt is now extended as the game was rained out last night and rescheduled for today.

This can only mean bad karma will come your Maximum Leader's way.

Carry on.
I still can't comment over at Maxy's site, so again I'll add my two cents here.
First, it looks from the radar as if the Rain Gods are going to reach down and save Maxy's bacon (mmmm......bacon) this afternoon, probably raining out the first and maybe raining out the second of the scheduled twofer. If that happens, I suspect that Johnson will have to go somewhere else to get his 300th.
Second, though, let me say.....shame. SHAME, Sir! If that ju-ju gets you, it'll be well earned.
UPDATE: Uh, oh - looks like they're starting the afternoon game after all. (Robbo's little league softball got kyboshed, however.) JU-ju-ju-ju, JU-ju-ju-ju......

Posted by Robert at June 4, 2009 11:03 AM | TrackBack