February 16, 2009
Pirates of the Mediterranean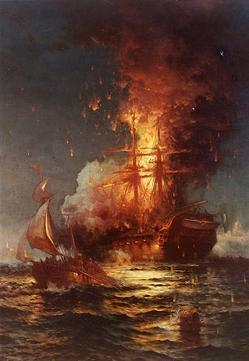 On this day in 1804, young Lt. Stephen Decatur Jr. and a small band of volunteers boarded the frigate U.S.S. Philadelphia, run aground on a reef in Tripoli Harbor, and burned her lest she should fall into the hands of the Barbary pirates.
If piracy isn't the world's oldest profession, it easily has to be within the top five. The troubles off the Golden Horn of Africa these days are certainly nothing new, as today's anniversary should remind us.
For an interesting take on the geo-political issues of Mediterranean piracy confronting a young United States under President Jefferson and the means by which he sought to deal with them, may I recommend The Pirate Coast by Richard Zacks. Among other things he deals with the whole Philadelphia incident, including asserting that the ship could have been heaved off the reef when she first ran aground and saved, but that Captain Bainbridge (who later commanded the Constitution in her epic battle against HMS Java) chickened out. Zacks contends that Bainbridge's cowardice was hushed up by powerful friends back home in order to save his naval career.
Posted by Robert at February 16, 2009 10:27 AM | TrackBack