February 06, 2009
Gratuitous Nats Posting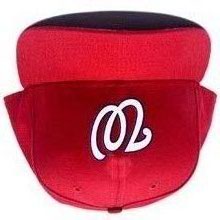 With a week to go until pitchers and catchers report, is my team - which lost 102 games last year - on track to pick up right about where they left off? That seems to be the buzz:
The Washington Nationals missed a golden opportunity on the free agent market - they let Eddie Guardado get away.

Guardado is the Texas Rangers reliever who nearly had a heart attack last season when his team played a trick on him: They told him he had been traded to the Nationals.

And there he was in the off-season, on the free agent market, ready to be had. But the Rangers signed Guardado to a minor league deal Tuesday.

Signing Guardado would have been nice comic relief for the Nationals, who might as well roll with their reputation as the laughingstocks of baseball.

Here it is, a week before pitchers and catchers report to spring training, and the Nationals essentially have the same team that finished with 102 losses last year. The only notable changes are the addition of three average-at-best players: pitchers Scott Olsen and Daniel Cabrera and outfielder Josh Willingham.

Sorry, I forgot: They recently signed two free agents, shortstop Alex Cintron and catcher Javier Valentin, to minor league contracts. (With this club, I'm not sure how that differs from a major league contract.)

Valentin is another former Cincinnati Reds player - former Reds and current Nationals general manager Jim Bowden seems intent on running a welfare hotel for Cincinnati rejects and refugees.
Sigh.
Well, "dum spiro, spero," I suppose. I, for one, refuse to give up on the team and look forward with keen anticipation to mid-April.
I may add that the eldest Llama-ette is also looking forward to the season with a Khan-like sense of vengeance: Technically, the Phillies did not have to push us past the 100 loss mark in order to clench the division last season and she's convinced they did so simply to humiliate us. Therefore, no matter what else happens this year, her motto is simple: Philadelphia Delenda Est.
Heck, I can go along with that.
Posted by Robert at February 6, 2009 04:48 PM | TrackBack