November 26, 2008
"Shut Up," He Explained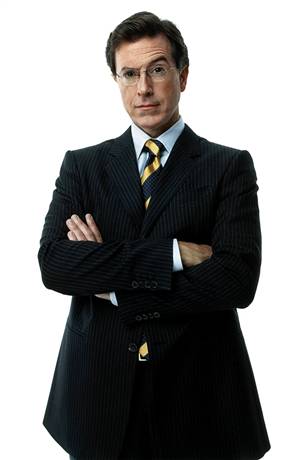 Spike has been running the Star Wars prequels this week. The night before last, God help me, I sat through Attack of the Clones. Although I came for Natalie Portman's abs, I stayed for the train-wreck that is the later George Lucas output.
Mesmerized by the awfulness to which the series descended, I actually made up my mind to try and catch Revenge of the Sith last evening. However, it would seem that my guardian angel was putting in some overtime: turns out the moovie ran in an earlier time-slot than on previous evenings, and by the time I wandered into the basement it was nearly over. As Darth Ani might have said (in fact, did say): "NOOOOOOOOOO!!!!"
(That scene never fails to produce the guffaws, btw. Something tells me this is not what ol' George had in mind.)
Aaaaanyway, I mention all of this to explain why it was that after surfing around for a few minutes, I came to rest on the Stephen Colbert Show. Which gave me ample excuse to say here what I've wanted to say for a long time: This man is not funny. He's an arrogant, condescending prick. ("But Tom," you might be thinking to your collective selves, "Um, so are you." Hush.) There's nothing wrong with skewering your target. But there's something about implying that your audience are a pack of drooling, inbred, knuckle-dragging mo-rons if they don't agree with you that absolutely rubs me the wrong way.
Also, that whole eye-brow thing gets real stale after about two seconds.
Ah! I feel much better for having got that out.
BTB, Colbert had Paul Simon on last night. Simon, shall we say, has not aged particularly well. He had the look of a guy who wanders around bus stations checking the payphones for loose change and muttering about the CIA following him.
Posted by Robert at November 26, 2008 11:26 AM | TrackBack