November 19, 2008
Have A Crappy Day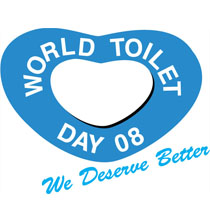 Yes, it's World Toilet Day!
According to the World Toilet Organization (yes, really) here are the three We's (or should it be "Weees"?) of the pro-commode movement:
World Toilet Organization (WTO) stands up for the 3 "WE (s)" in the theme "We Deserve Better".

* WE: Toilets deserve better social status. WTO has been striving to elevate the status of toilets to make them status symbols and objects of desire. WTO speaks on behalf of toilets "WE DESERVE BETTER SOCIAL STATUS".

* WE: The second WE are the toilet cleaners. WTO aims to professionalize the sanitation and restroom industry and to upgrade the skill sets of the restroom cleaners. WTO speaks on behalf of the toilet cleaners "WE DESERVE BETTER PAY, RESPECT AND PROSPECTS".

* WE: WTO speaks on behalf of 2.5 billion toilet-less people, "WE DESERVE BETTER PLACES TO DEFECATE -- PROPER TOILETS".
I have to admit that I've been struggling all day over whether to post on this. I mean, yes, I can see what these folks are getting at. And surely improved sanitation around the world is truly a worthy goal.
But still.......OHHH, HAHAHAHAHAHA!!!!!!
Sorry, sorry. Couldn't help myself.
Seriously, I think we should all step up and do what we can to help the WTO help the world, ah, put its problems behind it.
OHHH, HAHAHAHAHAHAHAHAHAAAA!!!!!
Oh, I slay me!

Posted by Robert at November 19, 2008 03:26 PM | TrackBack