April 25, 2008
Random Seasonal Observation
Pollen has returned to the Dee Cee area with its annual whoop and hollah, getting under my contact lenses and making me look like a drug addict. For some reason, as I was squinting and snuffing this morning while waiting around for my car to get inspected, a recurring thought popped into my head: Why the hell does the Nasonex Bee have a Spanish accent?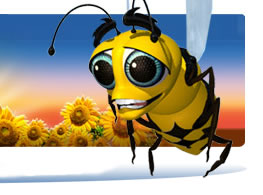 "Eet ees jess the thing for seasonal allerchies!"
I understand that in fact Antonio Banderras does the voice, although I wouldn't have thought he needed the money. But that still doesn't explain. What is the connection? Why would a bee talk that way? What gives? Is there a point?
I don't mind it that much - I really just don't get it.
Now when it comes to drug ads I do mind, certainly Viagra's aging boomers in matching bath-tubs is pretty annoying, but for downright creepiness I don't think anything matches Lunesta's Radioactive Butterfly of Death: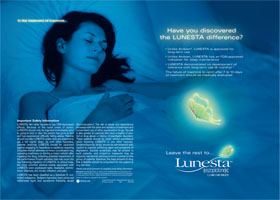 I'd be terrified to shut my eyes if I knew that thing was on the loose.
Posted by Robert at April 25, 2008 09:14 AM | TrackBack