April 25, 2008
Gratuitous Revolutionary War Geekery Posting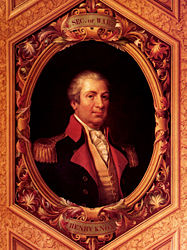 I am currently reading Henry Knox: Visionary General of the American Revolution by Mark Puls. A jacket blurb by Joseph Ellis calls it "unquestionably the authoritative biography", but something tells me it is, in fact, probably the only biography.
The book is entertaining and informative so far, except that Puls makes assertions from time to time that, absent cites or more detailed explanation, one must take on a certain amount of faith. For example, Puls states that Knox's fondness for street-brawling in his yoot in Boston was a vent for his frustration over the abandonment of his family by his father and his own need to quit school and go to work to support his mother and younger brother. Well, maybe, but I generally like to see the proofs of such psycho-analysis.
Anyhoo, there are many other more concrete facts about Washington's great artillery chief that I simply did not know until now. Here are three of them:
1. Knox was an eye-witness to the Boston Massacre, apparently going so far as to (unsuccessfully) try and break things up before they got out of hand. He testified at the subsequent military inquiries and was praised by all parties for his behavior at the scene.
2. Knox married a woman named Lucy Flucker. I certainly hope her family name was pronounced "Flooker", because otherwise it would have been quite unfortunate.
3. Knox managed to shoot two fingers off his own left hand in a hunting accident in the early 1770's. He never appeared in public afterwards without a scarf or some other covering carefully wrapped around it.
Posted by Robert at April 25, 2008 08:43 AM | TrackBack