June 13, 2007
Gratuitous Fins Posting - Daunte's Inferno Division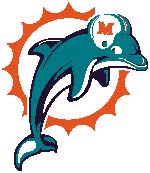 Aw, Geeze. Just when you think the whole QB thing is beginning to settle down, this happens:
The NFL Players Association filed a grievance on behalf of Culpepper, alleging the Dolphins have breached Culpepper's contract by deliberately limiting his practice time. The league received the grievance Tuesday, league spokesperson Greg Aiello said.
The 'Fins are, of course, trying to keep Culpepper from getting hurt while they work to get rid of him. The good news, suggested by the article, is that the grievance process may drag on long enough to give them enough extra time to do so before the issue is resolved.
Regular reader and loyal 'Fins fan Michael, who sent along the article, has this to say about it:
As I follow the ongoing trainwreck, I am reminded of the scene from a great sci-fi flick, "The Last Starfighter". It's during the climactic battle scene where they are surrounded by the enemy, all of their weapons exhausted and are left to use their last weapon called the "Death Blossum". When its engaged it causes their ship to spin rapidly firing missles in all directions, guaranteed to destroy everything within range. My question is where did Daunte find one?
What's creepy is that I saw "The Last Starfighter" exactly once, when it was showing in theatres 23 years ago and I still know exactly what he's talking about. Does this make me some kind of geek?
UPDATE: Oh, and speaking of geeks! (*Snerk!*)
UPDATE DEUX: And speaking of more geeks!
Posted by Robert at June 13, 2007 09:46 AM | TrackBack