June 13, 2007
Gratuitous Art Posting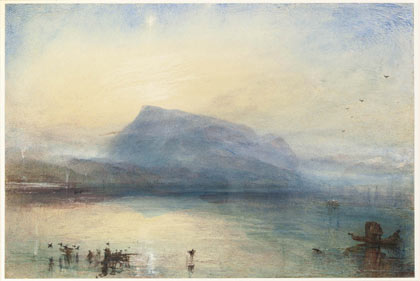 The Blue Rigi by JMW Turner (c. 1841)
This is cool. The Tate Gallery is running an exibit of Turner watercolors and sketches.


Turner's beginnings were the colour studies he made more or less throughout his career in which he worked most freely with paint, working out tonal perspectives, the effects of light and shade, freeing landscape from specifics. They are like aide-memoires of the very essence of his art.
Rough drafts, if you will, but still fascinating.
When I lived in London, I slid down to the Tate whenever I got the opportunity, there to spend hours goggling at their big collection of Turner oils. Never got tired of them.
UPDATE: Of course, I used to see this sort of thing all the time....
Posted by Robert at June 13, 2007 11:17 AM | TrackBack