July 31, 2006
Hot Llama Action
Well, of course since I opened my yap last week about the relative tolerability of the Dee Cee summer so far, this week promises to be a super king kamayamaya beyotch of a scorcher. Blazer and tie were dumped unceremoniously before I even left the house this morning. Dress shirt probably will follow by tomorrow.
Ah, well. At least the extreme heat had the courtesy to wait until August this year, which is as things should be. Nevertheless, I once again invite you to consider my proposal that the United States adopt a summer capitol somewhere aways up north, far from the swamps of the Chesapeake, where nobody in his right mind should want to be this time of year.
In the meantime, I'll just remind myself that vacation starts in four days and that we hit the road for Maine a week from today: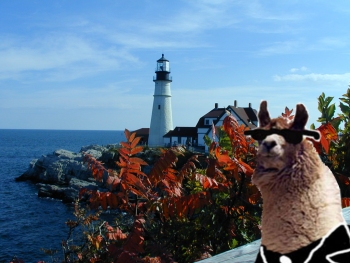 Aaaaaaaaaah.........
I'll also sit back and laugh to see what kind of pervs google in here on a search for "hot llama action".
Posted by Robert at July 31, 2006 07:39 AM | TrackBack